The Guide to Autumn Leaf Adventures
And Other Fall Activities in Clear Creek County
There are plenty of places to experience the gorgeous fall beauty in Clear Creek County. Here are some of the best places to see fall colors.
Aspen Fall Colors: The Guanella Pass Scenic Byway
Georgetown's Guanella Pass Scenic Byway is located a few minutes off I-70, just west of Historic Downtown Georgetown. The byway leads you past miles and miles of Aspen, gorgeous waterfalls, and wildlife. Also, be sure to bring your hiking boots, as there are many trailheads along the way, including direct access to the Iron Fens and miles of uncrowded trails.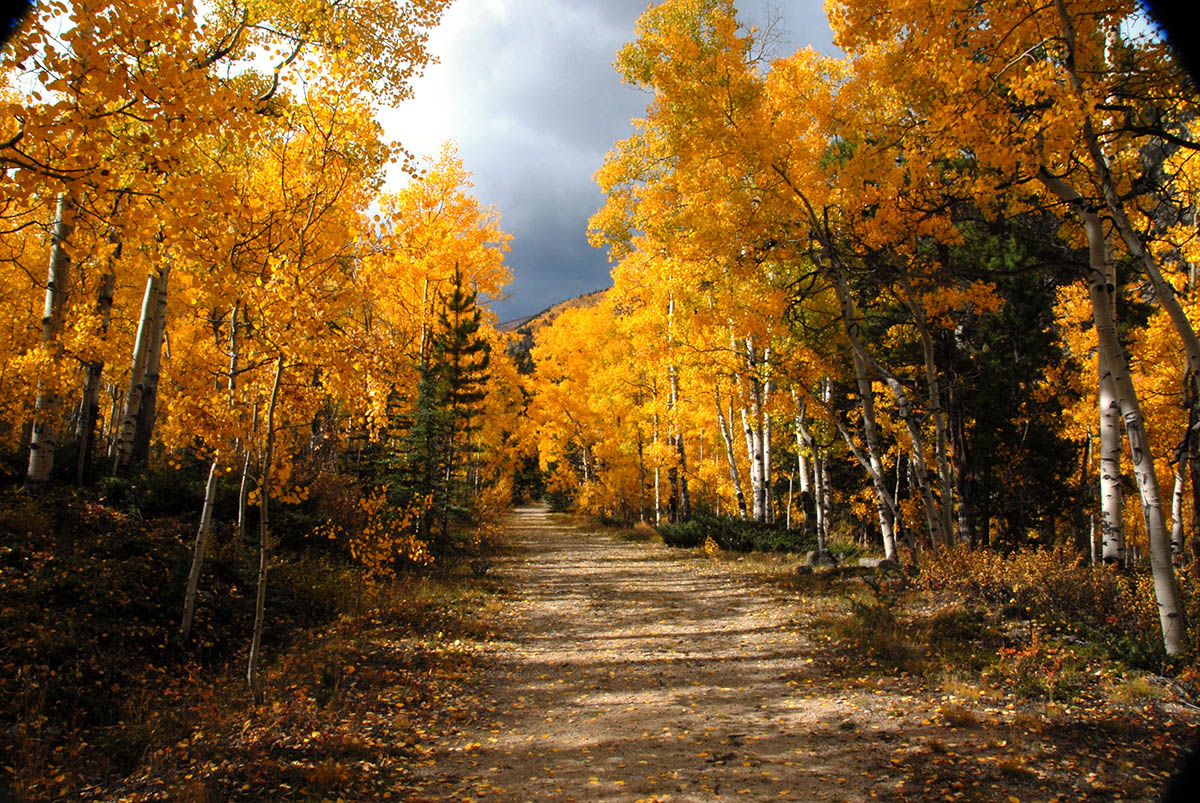 Fall River Road/Saint Mary's Glacier Fall Leaf Colors
Fall River Road is the perfect place to see fall colors. Take exit 238, from I-70 and follow the signs to Fall River Road and then proceed toward Saint Mary's Glacier. This drive takes you past the small town of Alice, Historic buildings, barns, gorgeous Aspen and waterfalls. Once you arrive near the top you are welcome to hike the extra mile to the glacier. Please note there is a small fee for parking and violators will be ticketed and/or towed if parking in non designated, residential areas.
Mount Evans Scenic Byway/ Echo Lake Lodge Fall Colors Drive
From Idaho Springs, travel south on Highway 103 from I-70, which becomes the Mount Evans Scenic Byway. This road is complete with all the twists, turns, and overlooks, as it takes you deep into the mountains between Idaho Springs and Evergreen. This drive is full of gorgeous fall colors and countless Aspen. After arriving at Echo Lake and the Echo Lake Lodge, you may turn towards Mount Evans and drive as far as Summit Lake to enjoy the colors of fall, weather permitting through the first weekend of October. However, the upper five miles to the summit of Mount Evans is closed to motorized vehicles between Labor Day and Memorial Day. Still, the Echo Lake Lodge is a great place to have lunch or simply stop in for a slice of their unbelievable, home-made pie – you may also choose to walk the path around Echo Lake, enjoy a picnic, or even cast a line and fish for the day.
Train Ride through the Fall Colors of the Forest
All Aboard! Be sure to catch a ride on the Georgetown Loop Railroad® as it takes you on a gorgeous, mountain-side ride through Aspen and across the Devils Gate Canyon Bridge overlooking a valley filled with golden Aspen. The train runs from Georgetown to Silver Plume and guests also welcome to take an optional tour of the Lebanon Silver Mine along the way.
Experience Fall Colors By Horseback
Start by driving up Virginia Canyon Road in Idaho Springs, also known as "Oh My Gawd Road" – known for the spectacular views as well as its narrow and curving lanes. This dirt road will wind you past old mining sites, gorgeous Aspen, and incredible views. Up top, A&A Horse Stables offers guided rides among the Aspen, through early 1800's cemeteries, and the Glory Hole Mine. Schedule your guided ride today!
Guided ATV tours through the Rocky Mountain Fall Colors
Enjoy the fall colors while on a guided ATV tour by ATV Tours Colorado. The majestic views are enhanced by the beauty of the trees turning yellows and orange. Views of the Continental Divide are breathtaking, so be sure to bring a camera. This two-hour ride will take you to the Silver Creek ghost town of 1884-1904. No structures remain, just foundations, but you will see why miners choose this beautiful valley for their home. The town was short-lived but once had over 1,000 people living here with a school, store, hotel, and saloon. Don't forget to wear long pants, closed-toe shoes, and bring a jacket, as this ride takes you from 8,200 feet to over 9,300 feet in altitude where the weather can change quickly. Minimum age to drive the ATV is 16, double ride ATV's are also available, and if you have never driven an ATV, staff will train you and give you a practice session prior to the trip ~ Schedule your adventure today!
A Room with an Autumn View: The Hotel Chateau Chamonix
Located in Georgetown is an enchanted getaway along Clear Creek. From any room enjoy breathtaking views of Aspen, as you are surrounded by the gorgeous Rocky Mountains. Relax in the large, upstairs patio hot tub where you can unwind and listen to the sound of the rustling leaves, or if you prefer, you may request a lower, creekside room complete with a two-person, private hot tub off the balcony. Reservations, please visit www.hotelchateauchamonix.com.
See Fall Leaf Colors from Squaw Mountain Fire Lookout
Looking to find something a bit more off-the-beaten-path? Consider renting the Squaw Mountain Fire Lookout – Located in Idaho Springs, just off Highway 103 and Forest Road 192.1, where you can see miles and miles of Colorado's golden Aspen, and amazing panoramic views of Denver, the Great Plains, Mount Evans, Pikes Peak, Longs Peak and many more peaks. 
Clear Creek County is the gateway to the Rocky Mountains. Located just west of Denver along Interstate 70, Clear Creek has 396 square miles of public lands to explore, as well as four mountain peaks above 14,000 feet. Clear Creek is comprised of charming mountains towns Idaho Springs, Downieville, Lawson, Empire, Georgetown, and Silver Plume, which are all along the I-70 corridor. Learn more about Clear Creek County here.
Explore More of Clear Creek County