Your Winter Wonderland Just West of Denver...
Georgetown Loop Holiday Train Rides
Enjoy a one hour day-time or evening train ride aboard the Georgetown Loop Railroad and meet with Santa, Mrs. Claus, and Santa's helpers while winding through the beautiful snow-covered Colorado Rocky Mountains. Both trips are complete with complimentary hot chocolate, cookies, candy canes and more!
November 26 ~ All Day Event
Support small business and shop small this Saturday in the mountain towns of Idaho Springs, Empire, Georgetown, Silver Plume and surrounding communities. Many businesses will be offering special discounts and promotions in the County.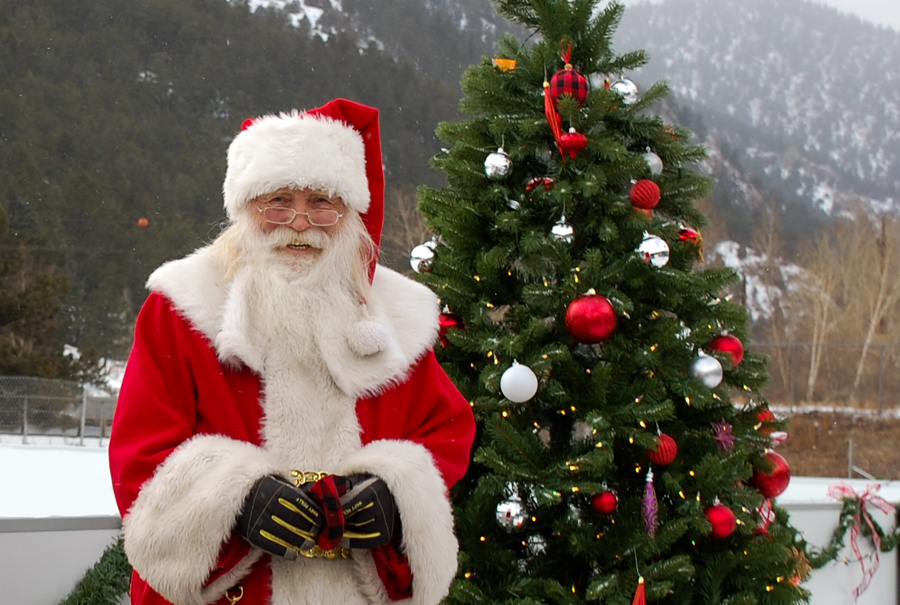 Miner Street Market + Tree Lighting
November 26 ~ 12pm – 5pm
Citizens Park – 1545 Miner Street, Idaho Springs
The Idaho Spring Marketing Alliance welcomes you to enjoy crafts and exploring the Idaho Springs Heritage Museum and Visitor Center starting at Noon and then over to Miner Street Market for a visit with Santa and his reindeer at 3:30pm. The tree lighting ceremony will follow at Citizens Park complete with hot cocoa, cider, and coffee! Free event.
While here be sure to enjoy visiting our local merchants for Holiday specials, enjoy dinner, or stay the night at one of our cozy accommodations!
November 26 ~ All Day Event
Start the Holiday Season off at this event in the Town of Georgetown. Children of all ages are welcome to come deliver their written letters to St. Nick! Bring the entire family for a fun-filled day in Georgetown – catch a ride on the Georgetown Loop Railroad, enjoy a warm meal, visit the boutiques, or simply warm your hands by the bonfire and be sure to stay for the Lighting of the Christmas Tree in Library Park around 5pm.
Guanella Pass Winter Closure
Georgetown's Annual Christmas Market
December 3-4 and 10-11 ~ 10am – 5pm
Historic Georgetown presents a Christmas scene reminiscent of Christmas long ago. There will be roasted chestnuts, plenty of shopping, horse-drawn wagon rides and wonderful sights. Enjoy appearances by St. Nicholas in his traditional dress and the procession of Santa Lucia, as well as carolers and other family entertainment. This year we hope you will begin making it a tradition of your own!! This event will take place in Historic Downtown Georgetown, on 6th Street. Admission is FREE.
Santa Claus Visits Loveland Ski Area
December 24-25
Every Christmas Santa takes time out of his busy schedule to ski at his favorite area, Loveland! This year is no different as he makes his appearance on the 24th and 25th. Not only will he be cruising the slopes, but also visiting the Ski & Ride School and Children's Center as he hands out candy canes to the young ones and poses for photos. Don't miss out on some great holiday skiing and a chance to catch Skiing Santa!
December 24-25
Celebrate the holidays with friends and family at Tommyknocker Brewery in Idaho Springs. Enjoy live appearances by Santa's reindeer while sipping on craft brews and mouth watering bites. Christmas Day enjoy a "Christmas Story" dinner complete with Chinese food and be sure to wear your best ugly sweaters!
P.S. Be sure to sample the seasonal craft favorite, Cocoa Cane Porter!
Ice Racing on Georgetown Lake
January 7-8
Calling all 4-wheel drives and spectators. This weekend kicks off the Our Gang Ice Racing 2022 Season with online registration beginning December 2022. Racing takes place January through February, weather permitting.
Clear Creek County is the gateway to the Rocky Mountains. Located just west of Denver along Interstate 70, Clear Creek has 396 square miles of public lands to explore, as well as four mountain peaks above 14,000 feet. Clear Creek is comprised of charming mountains towns Idaho Springs, Downieville, Lawson, Empire, Georgetown, and Silver Plume, which are all along the I-70 corridor. Learn more about Clear Creek County here.
Explore More of Clear Creek County